Camera built-in security light(L-miteru)
Product features

Product features
Feature-1


Easy installation

No special wiring work for camera is required. Standard wiring of security light is everything you do, then the light automatically turn on at night and off in the morning, and camera start filming and storage of the data through the day. The buil-in GPS correct time automatically.
Feature-2


Colorful and clear image(picture) at night

Since LED light illuminate the same area where camera is filming, the image at night is colrful and clear.
Feature-3


Competitive price

Compareing with installation of each LED light and camera one by one, L-miteru installation is one time. And more, Many parts such as housing case, arm, power unit etc can be common utilization with camera and LED light, L-miteru cost become competitive.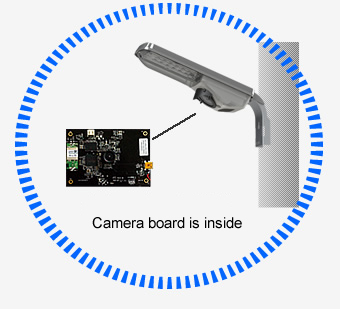 How to operate
Storage of the image
3.3 pictures per second filmed and filed. One fils saves 3 hours images, and total 42~49 files are storage with 32G SD card. It mean that nearest 6 to 7 days images are always available as storage. But images become older than 6-7 days are erased (overwritten with new images)
Maintenance
Necessary maintenance is basically replacement of SD card only. (Use our designated SD card )
1, SD card is consumable, expected life is 1 to 3 years depending on the circumstance etc. Please replace with new SD card periodically.
2, Aside from the above periodical replacement, there may be irregular replacement. As long as camera operate correctly, red color pilot lamp repeat flash(on and off). If the pilot lamp stop flashing (either turn off or constant turn on), it mean that images are not storage correctly, so please replace with new SD card.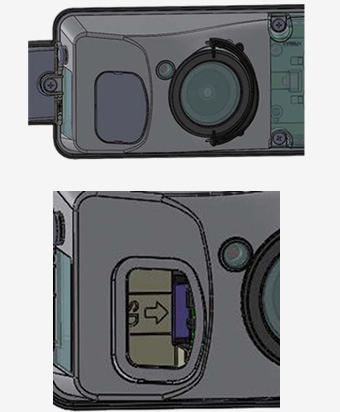 To get the storage images from SD card
Method 1:

Remove SD card)
Just remove the SD card from the L-miteru. In this case, you need to climb up the high position where the L-miteru is installed.This way is recommended for the case you need whole image stored in the SD card.

Method 2:

Connect by USB)
Same as the method 1, you need to climb up, but instead of remove the SD card, connect with SD card and transmit the image data. One file images(3hours images) can be transmitted in one minutes.
This way is good for specific file(not so many) download. If you do download whole 32G SD images, it takes about 70minutes. While the transmitting, new images are not recorded.

Method 3:

Use Wi-Fi built-in SD card (Option sales)
No need to climb up but need to go to right under the L-miteru. One file images(3hours images) download requires 5 to 10minutes. Since it takes about 5-7hours for whole 32G download, this way is not recommended for more than 2 files download.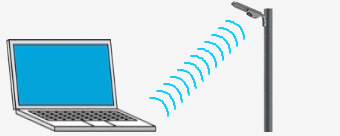 To view the images
The image got from L-miteru SD card can be played back with the L-mieru viewer software only. The L-miteru viewer is available with CD provided together with L-miteru. Please install it with your PC. As option, The secret code between the specific SD card and L-miteru viewer can be putted on.